Partners
The research center has the following academic and private-sector partners: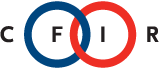 The establishment of HIPERFIT has been encouraged, facilitated and supported by the Copenhagen Finance IT Region (CFIR), which will serve as the center's liaison with the Danish Bankers Association.
The research center welcomes additional partners. Please contact the center for enquiries.